KeyBank: Responsible and Inclusive Banking
As part of our recent 2021 Environmental, Social, and Governance Report, KeyBank outlined several commitments it has made to fostering diversity, equity and inclusion in both its enterprise and in the communities that it serves. KeyBank is committed to its mission of helping its clients and communities thrive.
Everyone's financial journey is different. KeyBank makes intentional efforts to meet the individual needs of clients and communities through a diverse range of products, services, programs, and initiatives.
Providing inclusive banking means we:
Provide advice and guidance to our clients
Are accessible when and how clients need us most
Show up in our communities every single day
In 2021, we worked with the Financial Health Network, the leading authority on financial health in the U.S., to identify opportunities to support equitable financial health outcomes and access for our clients and communities. We also introduced a new role, Emerging Markets Segment Product Manager, within the Consumer Bank Product Management team. This role will focus on helping Key develop and deliver products that meet the needs of LMI communities and clients. The individual in this role partners with teammates across the enterprise, including Product Management, Consumer Payments, Corporate Responsibility, Home Lending, Marketing, and Communications, to align product design, features, and functions with LMI clients' needs, while developing a measurement infrastructure to monitor progress with clients' financial health.
KeyBus Community Initiative
To make banking more inclusive for all communities, we continuously look for ways to improve access to financial services. Starting in spring 2022, we introduced our new KeyBus to bring financial services, as well as financial coaching and financial education, to traditionally under-resourced communities across our footprint.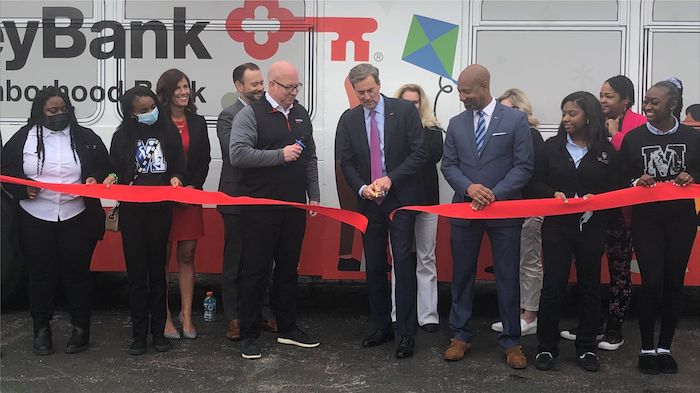 Financial education and support
KeyBank is committed to providing our clients and communities with the financial education necessary for a successful future. Over the past year, Corporate Responsibility Officers, Home Lending Leaders, and Community Development Loan Officers hosted in-person and virtual financial inclusion and home-buyer education sessions throughout our markets. We also support a variety of national and local organizations – including Junior Achievement, Akron Public Schools in Ohio, and the Connecticut Center for Arts and Technology – that provide students, and unemployed and underemployed people, access to real-world financial tools and technologies that they will encounter with banks and other financial service providers.
Black Homeownership Collaborative
We support the Black Homeownership Collaborative's seven-point plan to increase Black homeownership by 3 million households by 2030. Key teammates are active in a variety of workgroups focused on housing counseling, down payment assistance, credit and lending, and marketing and outreach.
Indiana Black Expo
Key has enjoyed a strong relationship with Indiana Black Expo for many years. We sponsored Indiana Black Expo's 2021 Minority Business Conference, which was a free, virtual event that featured a roundtable discussion about how to improve utilization of underrepresented businesses in supplier diversity programs across the state. In 2020, we worked with Indiana Black Expo and the Indiana Small Business Development Center to sponsor a webinar series for minority business owners that covered a wide range of topics, including starting a business, business operations, financial health, marketing, developing banking relationships, and succeeding in a post COVID-19 world.
To learn more about Key's ESG efforts, read the 2021 Environment, Social, and Governance Report here.